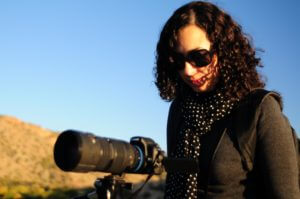 Elisa Herrmann is a filmmaker and video artist from Brazil, with a degree in Art Education from UFPR, a specialization in Audiovisual Communication from PUC-PR, and a Master of Fine Arts in Mass Communication and Media Arts from SIU. Elisa is currently pursuing an EdD in Higher Education Leadership at Sam Houston State University.
In the past years, Elisa produced and directed several short films, which were screened at festivals in the USA and abroad. Elisa's awarded short documentary "Rodrigo Herrmann – Life and Works" premiered in Curitiba, Brazil, during the prestigious 34th Music Festival of Curitiba, and screened at several international film festivals, including the 2016 Cannes Film Festival – Short Film Corner. Elisa Herrmann is also an awarded screenwriter with her short film "Death Expectancy", a dark comedy that deals with loneliness, the elderly, and technological advancements. Elisa's first feature screenplay "The Great Adventure of the Bentley Girls" was awarded first place at the Fan Fiction Film and Writing Festival, and is currently being submitted to other screenplays festivals. Elisa has just completed a feature documentary about the Brazilian religion Umbanda, which is currently in the festival circuit.
Elisa is an Associate Professor of Mass Communication at Sam Houston State University where she teaches film production and continues to produce her own films. In the fall of 2016, she was appointed as the Coordinator of the BA in Film at SHSU, where she works advising students and promoting the film program.